Adriana
Adriana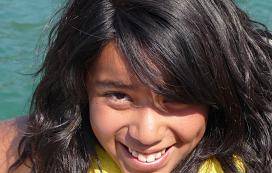 7th grade
My name is Adriana. I'm a 13 year old Latina. I live in South Central, California. I'm a teenager that's eccentric; well that's what most people say. I'm eccentric because I'm creative, an individual, and I don't do ordinary things. For example I like eating almost every food with Tapatio. Also, I say almost everything in a loud voice. I am a very smart girl with a loud voice, curly hair. I'm also short.
There are seven people in my family. My family is composed of my dad Juan, my mom Ofelia, my brother Henry, and my sisters Karen, Tatiana, and Iraely.  My entire family is funny and unique. Perhaps this is why I too am unique. Rarely is my house quiet, but when it is, everyone is in their room. Sometimes I don't even want to be at home because I hear my parents arguing about the same thing, which is money. Later they act like if nothing happened. Which is something I like because they know how to forget what happened, and move on. I admire my older sister because even if life gets hard she still tries to raise her son and get a good job. She has learned from her mistakes, and done better because of them.
Everyone has memories, and my favorite most memorable thing was when Strive invited me to go to Bass Lake. Going to Bass Lake was the greatest experience I have ever had. This was very important because I had never been to a wonderful place like it. When I arrived there I was very surprised. I started to compare Bass Lake to South Central, known as "the Ghetto."  Bass Lake is very quiet, with no tagging. The neighbors all know each other and are very friendly. Going to Bass Lake has influenced me to change my life. It influenced me to strive more to achieve my goals to have a good future. It allowed me to see beyond my community because there are nicer homes to live in, and if you work hard you can achieve whatever you want to do.  It reminded me that even though there are people that tell you that you are a failure or you can't do what you want to do, that should never make you stop, or quit your dreams. It should make you stronger. Plus there is no such thing as a failure. That's what I've learned.
My special interest is dancing. When I am dancing I feel so happy. I really enjoy it because it is a way to express my feelings. It's my favorite outlet. My next favorite hobby is to listen to music. Music is a part of me that I would never let go. I wouldn't let go because music defines who I am. I'm not just any ordinary girl you see around.  I'm someone different because I do my own thing. By dancing I can become someone in life, like a professional dancer. I would like to dance in a music video with a famous person. The only way I can become better is if I practice more and more.
My goals for the future are to go to a good college, buy my own house in a good location, and to become whatever I want to be in life which is a professional dancer. I know I can be a successful person, and Strive has helped me in many ways. Strive helps me by challenging what I know and helping me gain more knowledge. They are very strict but I know they do that so I can do what I have to do. Plus it shows me that life isn't easy so now I should start getting used to it. Now that I'm here at Strive I've been a little more advanced than in my math class. If I would have never come to Strive I wouldn't have known how hard things are but I just have to strive for what I want.